Fall carport season is upon us and getting a carport or garage is a great idea for anyone looking to protect their vehicles from the elements. If you've decided you're ready to invest in a carport, your next step is to consider the different types of carports and which one is right for you. At Grizzly Shelter Ltd. we offer a large range of carports and garages in varying sizes, colours, and materials. Keep reading to find out which carport or garage will best suit your needs!
Patio coverings make a great addition to any home, and enable you to enjoy your outdoor living space all year long! Whether you're looking for a gazebo to add to your garden or an awning to convert your uncovered patio into a functional hangout space no matter the weather - we've got you covered!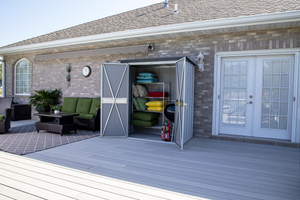 Storage space is something we're all after - but what do you do when you can't fit a big garage or large storage shed on your property?  Whether ...